Probst Electric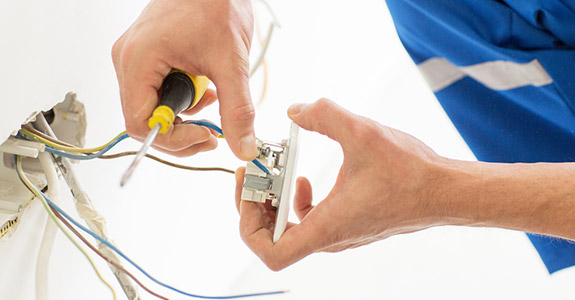 For over 10 years, Probst Electric has provided clients in the Bingham area with trusted, professional electrical services for both residential and commercial properties. We offer clients a wide range of electrical support for rewiring projects, new construction, generator services, indoor and outdoor repairs and more.
Learn more
Trusted Electricians in Fayette County, IL
Probst Electric is proud to serve as the leading electrical repair and installation company in the Bingham community. Since 2004, our company has provided area residents with trusted electrical services for both residential and commercial properties. We specialize in a wide range of electrical offerings that can improve every aspect of your home or business. As a local company that is dedicated to customer service, we guarantee stellar client satisfaction and a professional contracting experience from start to finish. Our business is fully insured and each of our technicians is licensed so that we can confidently provide safe, skillful and high-quality service.
Our certified technicians have extensive knowledge in a wide variety of electrical services. We assist clients with all types of electrical contracting, including electrical repairs, appliance wiring, electrical remodeling, service upgrades and generator installation and service. Our electricians are able to expertly and quickly troubleshoot difficult scenarios and provide immediate and on-site remedies for electrical issues. When you hire our electricians in Bingham, IL to handle your property's needs, you can rest assured that we will work tirelessly to get you the best results possible. Whether you need electrical assistance on your home, office building or even on your farm, our technicians are ready to provide assistance. Clients choose to work with Probst Electric when they need an electrician in Bingham, IL because:
We have over 10 years of experience in providing clients with skillful and trusted electrical services.
Our business serves residential, commercial and agricultural properties for both indoor and outdoor electrical needs.
Every one of our technicians is a licensed electrician with countless hours of hands-on experience.
We are a fully insured business that makes customer safety and satisfaction our top priority.
We specialize in a wide range of client services that include repairs, installations, rewiring, system upgrades and so much more.
---
Areas Served
Proudly offering electricians and electrical repairs to the following areas:
Bingham, IL
Coffeen, IL
Fillmore, IL
Hillsbororo, IL
Litchfield, IL
Mount Olive, IL
Nokomis, IL
Payna, IL
Ramsey, IL
Taylorville, IL
Vandalia, IL
Fayette County, IL
Montgomery County, IL
Macoupin County, IL
Christian County, IL